An ecosystem at the heart of Northern Europen
Ranked among the top three most attractive regions for real estate prices …
Lille is located at the crossroads of four major European capitals (only 1 hour from Paris, 1,5 hours from London, 35 minutes from Brussels and 3 hours from Amsterdam by high-speed train). This location is a strategic asset, positioning Lille at the centre of the most heavily populated and wealthiest area in Europe.
… and among the top five major European cities for competitive operating costs
Real estate prices in this area are among the most competitive as are operating costs compared to our main European competitors. Our numerous reserved areas are ready to welcome new companies or allow further extensions.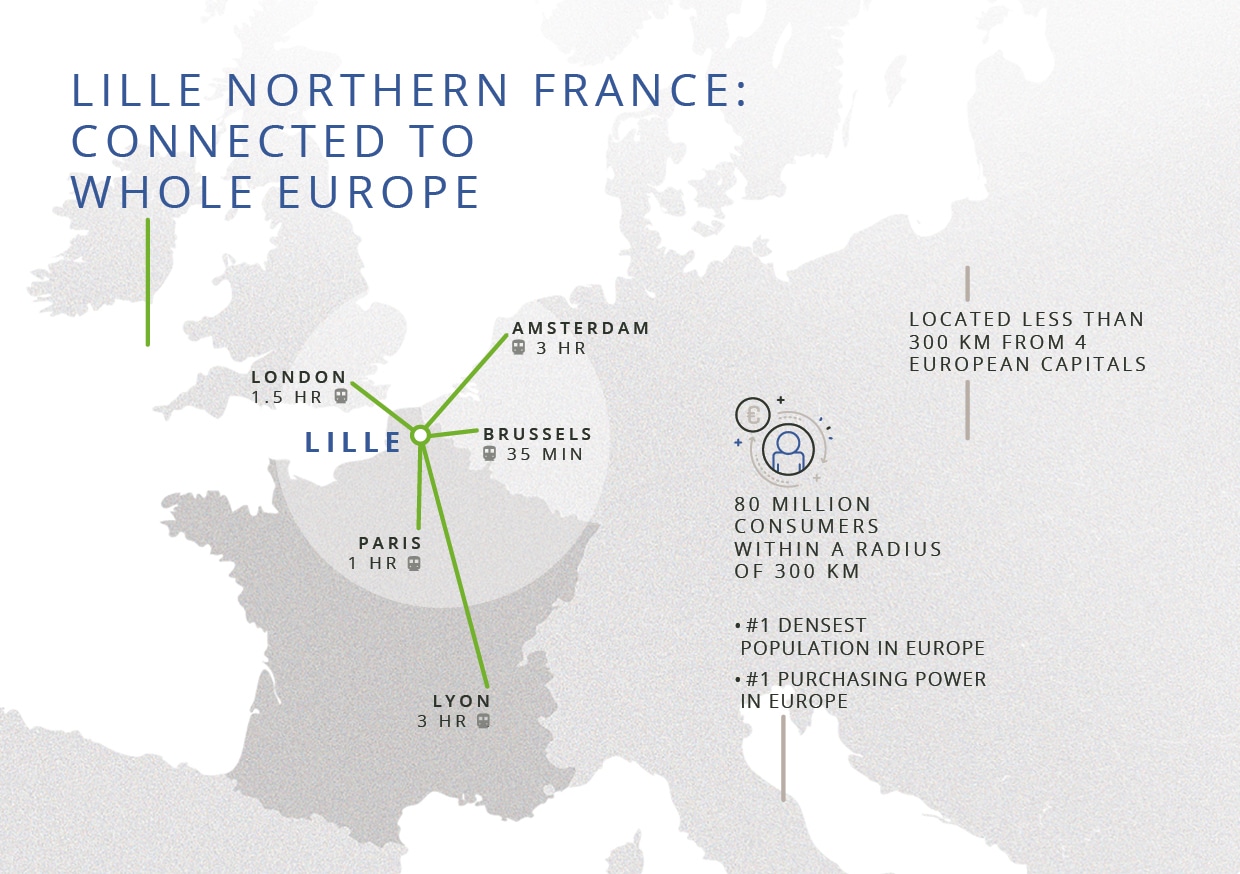 An innovative business environment
Ranked third OECD for government support for innovation (after US and China)
Best place in Europe for R&D tax incentives and attractive corporate tax rate on R&D operations (Research Tax Credit)
France is a u2018Startup Nationu2019 with over 12,000 startups
A leading and open economy
Worldu2019s sixth largest economy,
Second largest biggest consumer market in Europe and the worldu2019s seventh largest foreign investor (FMI, 2018)
u00a0Worldu2019sleading host country for foreign investment in industry (EY, 2016)
Internationally renowned schools and universities
Some of the best business schools in the world (HEC and ESSEC) (FT, 2017)
u00a022 Fench universities are ranked in the Top 500 Academic Institutions in the world (Shanghai rankings 2018)
A deep, qualified talent pool
Highly productive labour force (ahead of Germany and the UK) (The Conference Board, 2018)
u00a01,6 million scientists and engineers (OECD, 2017)
44% of 25- to 34-year-olds have a university qualification, (30.5% in Germany and 25.6% in Italy) (OECD, 2017)
Excellence in healthcare
Leading OECD country for access to healthcare; France boasts a healthcare system with high performance levels and universal coverage guaranteeing u2018access to care for allu2019.
Lille has the largest hospital university campus in Europe
fifth largest global market and second largest European market in the pharma industry (LEEM)
second largest European market for medical devices after Germany (Medtech Europe)
Four French medical research organisations in the worlds top 25 most innovative institutions: CNRS u2013 INSERM u2013 PASTEUR INSTITUTE u2013 CEA (Thomson-Reuters, 2016)
France has 18 biotech/medtech startups per million inhabitants (US: 10 and UK: 13) (France Biotech)
EURONEXT leading European stock market for healthtech: with 91 healthtechs (including 66 from France), Euronext is the leading European market for companies in the sector