INTERREG North-West Europe – Boost4Health – Foster globalization of life sciences SMEs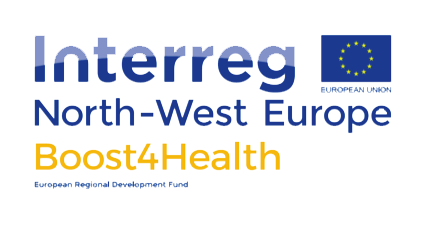 Launched in 2017, the European Boost4Health project aims to promote the internationalisation of European SMEs in life sciences through the construction of a favourable ecosystem.
Goals :
Develop a growth strategic program providing coaching and networking
Set-up a micro-funding program (worth € 1,2 m) to get access to an international expertise, to facilities, partners and fundings
Build a european product assessment network
Activities carried out by Eurasanté :
Participate to business market studies and business plannings
Assessment of SMEs economic potential
Set-up all necessary infrastructures to build the life sciences ecosystem
Providing services to SMEs in order to boost their international growth
Facilitating partners network, organize work groups and events, provide project development coaching
Official start: 01.04.2016
Project end date : 24/08/2022
Budget: € 5 103 500
WHAT NOW? BOOST4HEALTH CAPITALISATION !
The Boost4Health Capitalisation project aims to accelerate the growth and promote the internationalisation of SMEs in the field of life sciences, by relying on a favourable ecosystem and an adapted support programme. The project will capitalise on Boost4Health's proven and improved network and methods, extending it to new regions and more actively targeting new key sub-industries such as digital health or nutrition. Boost4Health's internationalisation programme will be implemented through coaching services, webinars, the organisation of matchmaking sessions at European events and the distribution of vouchers.
Duration: 24 months
Official start: 01/02/2020
Budget: 603 500€
To boost collaborations within North-West Europe. Up to €500 to cover:
Your travel costs (to attend international event or to meet a SME/Expert/ Service Provider)
Fees for an international life science event
Next International event eligible for a voucher:
To support the launch of a collaboration. Up to €1 500 for hiring expertise for a short period.
A kick-start of expertise to launch a future fruitful collaboration.
You are a service provider? Join the Boost4Health database!
Join the Boost4Health service provider database now to meet the needs of SMEs supported by the programme. Join the database to:
Gain visibility among an ecosystem of innovative European health actors
Become a member of the Boost4Health network
Have the opportunity to create high-potential international collaborations
Allow your clients to benefit from financial aid via the voucher system (subject to eligibility)
Head of projects: Brabant Development Agency (NL)
Partners: Eurasanté (FR) | Kent County Council (UK) | BioRegio Stern (ALL) | Université de Liège (BE) | Biocat (ESP) | Oost NL (NL) | Atlanpole Biotherapies (FR) | MedLife e.V. (ALL) | WestBIC (IE) | Biotech Santé Bretagne (FR)