INTERREG North-West Europe – AgriWasteValue – Implementation of a new value chain for the valorization of agricultural residues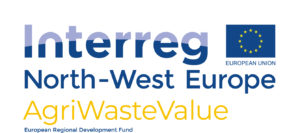 Description of the project:
Despite a difficult economical context these last years in Europe, some sectors like the cosmetic and nutraceutical fields are significantly growing. While the European cosmetic sector is estimated at €72 billion, the nutraceutical sector is also a growing sector as consumers are more concerned about health, population aging and the positive image of natural products. The European food supplement market is expected to increase to €10.3 billion by 2020. These sectors are characterized by a strong demand from consumers to return to natural products from local resources.
Currently, the majority of natural actives used in cosmetic or nutraceutical formulations are imported to Europe, while a great diversity of resources is present in North-West Europe. A large amount of residues in covered areas, known for their arboriculture and viticulture sectors, are not fully exploited for the sourcing of natural actives and are not used.
The aim of the AgriWasteValue project is to transform agricultural residues from the European North-West regions into bioactive compounds in order to use them in key industrial sectors such as the cosmetic and nutraceutical fields and then in a second phase in the energy, chemical and agricultural fields.
The agricultural residues, biomass that will be used for this project come essentially from: vine pruning, fruit tree pruning, bark, buds etc.
Duration: 42 months
Official start: 25.10.2018
Budget: €3.193.157,197
ERDF Funding: €1.744.580,84
Head of project: Paris Institute of Technology for Life, Food and Environmental Sciences (FR)
Partners:
CELABOR (BE)

Cosmetic Valley (FR)

University of Reims Champagne-Ardenne (FR)

Prüf-und Forschungsinstitut Pirmasens e.V. (DE)

Delphy (NL)

Valbiom (BE)

Ecole Polytechnique Fédérale de Lausanne (CH)

Eurasanté (FR)
Observers
Greenwin (BE), Wagralim (BE), Pôle IAR (FR), The Luxembourg Institute of Health (LUX), European Biomass Association (EU-wide association), Detic (BE-LUX), Biobased Delta (NL), Biovale (UK), Biogem (BE), Givaudan Active Beauty (FR), Alban Muller (FR), Reiner Schmitt GmbH (DE), Okobit GmbH (DE), PFI Bioraffinerietecknik GmbH (DE), NatExtra (BE)