INTERREG France-Wallonie-Vlaanderen – 3D4Med – Development of individualised 3D implants in new polymer-shaped memory materials to improve patient care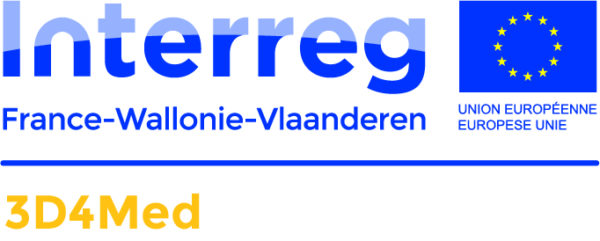 Goal : Develop innovative 3D matrices for tissue engineering in order to rebuild, regenerate or replace the function of defective tissues or organs. Innovation lies in the formulation of new polymers and on the other hand in the preparation of individualised implants.
Actions carried out by Eurasanté :
Coordination and participation in the communication activities of the project and its results.
Relay of communication and dissemination in the direction of the Hauts-de-France territory but also in its national and international networks.
Organissation of a launching event and a final event
Dissemination of the results of the project to clinicians and interested economic actors, especially during the launching and final events as well as during the project workshops.
Lead Partner : University of Mons
Duration: 42 months
Official start: 01.04.2019
Budget: 1 935 735 €
Head of project: University of Mons
Partners: 
École nationale supérieure Mines-Télécom Lille Douai (France)
Eurasanté (France)
ARMINES : Association pour la recherche et le développement des méthodes et processus industriels (France)
Ghent University (Belgium)
University of Reims Champagne-Ardennes (France)
Katholieke Universiteit Leuven (Belgique)
Associated partners :
Flanders Bio (Belgium)
Biowin (Belgium)
University of Lille (France)
Centre hospitalier universitaire et psychiatrique de Mons-Borinage (Belgium)
Universitair Ziekenhuis van Gent (Belgique)
CHU Reims (France)
CHU Amiens (France)